"We provide a professional, quality & timely demolition service."
Residential Demolitions

Domestic Demolition

Vacate land

House Demolition

Asbestos Removal

Excavation
Industrial Demolition Sydney
Large projects

Specialised equipment

Operation experience

Safe Demo systems

Government Tender

Bulk excavation
Commercial Demolition Sydney
Timely operation

Quality workers

Competitive prices

Experienced advice

Commercial Fit outs

Large volume demolitions
Here at Ronnies Demolition, we are known for professional demolition expertise. We operate a unique model that allows our service standards to remain high and our demolition and excavation rates low.
Demolition Sydney
Ronnies Demolitions provide fast and cost effective demolition services in Sydney including residential demolition where a complete or part demolition, is the best solution for rebuilding a house or property. When you are in the market to demolish and rebuild, Ronnies demolition can assist you. We are the demolition experts with important safety practices, quality workers and fast reliable service. Request a quote today for your next home demolition project. Ronnies Demolitions are certified and can deal with asbestos removal should your home contain this.
Industrial Demolition Services Sydney
Industrial demolition is totally different from residential or domestic demolition in that it requires superior & detailed planning, government permits and is generally a larger size project. We have the capabilities to ensure a smooth a trouble demo and we occupy all certifications and required permits either already on hand or applied for individually as required by the local council.
Commercial Demolition Sydney
Ronnies demolition are the experts in commercial demolition. Ronnies carries out work on a many medium size as well as major demo projects around Sydney and is industry rebound for operating in a timely and professional manner not just on and during the job, but also after, where recyclable materials are moved to recycling yards and safety cleanup considerations are always a priority.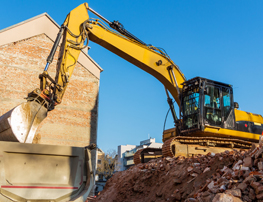 Ronnies Demolition is a family owned and operated company established in 1988. Ronnies has since established itself as the leader of demolition works in Sydney, specalising in large and small demolition excavation and site remediation projects. Ronnies demolition are experts in a variety of demolition related fields such as Asbestos removal and bulk excavation.
For over 30 years Ronnies Demolition have worked on many projects in Sydney both small and large, ensuring quality work and developing a reputation in the construction industry as a reliable and top quality demolition company.
MORE ABOUT RONNIES